Bison Union and the WRCA
Growing up, there were two things Bert Kuntz wanted to be: A Green Beret or a cowboy.
He accomplished the first during his 10-year military career as a Special Forces medic and Green Beret who had several deployments in the Middle East and throughout Asia. A couple years later he would make strides toward the second.
Out of the military, Kuntz found himself bouncing around and doing odd jobs until he landed in Fort Worth, Texas. There he befriended Michael McDaniel, a retired Deputy Sheriff of Tarrant County, and asked if McDaniel might know of a ranch who could use another hand. With zero ranching or ag experience, Kuntz was willing to work for free. McDaniel told Kuntz that "he knew a guy—a guy who's the real deal" and put in a call to Buster Frierson, a working ranch and rodeo cowboy that's been cowboying since he could walk.
Kuntz met with Frierson who told him he could sign on with his outfit for $10 an hour— the starting wage for anyone working on the ranch, whether an experienced hand or Special Forces veteran wanting to learn.
Frierson says, "Bert is a special individual. Lots of guys think they want to work on a ranch and they last a day or two. Not so with Bert. He's a different breed of guy. He's just a good human being with a great work ethic and skills. He fell in with me, fit in with the guys, and everyone just took to him."
Kuntz cut his teeth on ranching by fixing fence, weed whacking pens, and doing any and every odd job he was asked to do. Eventually, Frierson introduced him to horses and cowboy work. Kuntz found there were surprising similarities between the cowboy and military worlds, particularly in regard to camaraderie, communication, and respect.
"Watching these guys brand and sort and gather was eerily similar to what Special Forces guys do," he says. "The way they move, the way they instinctively know their guys and what they're going to do. Even if its 4 in the morning and dark and everyone's a horse, they still know who's who. It's the same with us. If I see a buddy of mine who I went to combat with 100 meters away in the dark, I still know exactly who he is."
One day, while out with Frierson fixing fences, Kuntz started scribbling in the dust settled on the ranch truck. The shape of a buffalo and American flag took form, and the foundation of Bison Union Co. was born. Kuntz, a self-professed "t-shirt, jeans, and ballcap type of guy" put those designs on a couple t-shirts, along with the slogans "Peace through strength" and "Protect what you love." They sold out almost immediately.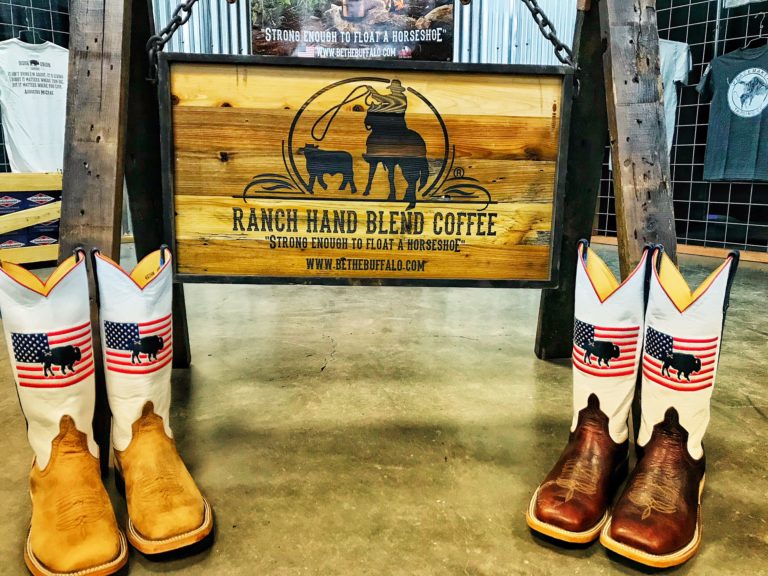 Today, the apparel company has branched out to shirts, hats, gear, and more, with a variety of designs and slogans, some of which can be purchased at their booth at the 23rd World Championship Ranch Rodeo. Also found at the booth are bags of coffee made for hard-working men and women who have to get up early in the morning—rain, shine, sleet or snow—to do their jobs so the rest of us can live our lives.
The coffee represents another branch of Bison Union, the Bison Union Coffee Company. Bison Union Coffee Company is located on Main Street in Sheridan, Wyoming and is both a coffee & retail store as well as Bison Union's coffee roasting facility. 
The Ranch Hand Blend coffee—"strong enough to float a horseshoe" and available at the booth—donates one dollar of each bag sold to the WRCA Foundation.
The Bison Union website says of the partnership " Ranch Hand Blend Coffee is a collaboration between Bison Union Company and The Working Ranch Cowboys Association. Bison Union Co. has the upmost respect for America's Working Ranch Cowboys and their families. 1.5% of America's population grows or raises the food for the other 320 million Americans just like 1.5% of America's population serves in the United States Military protecting America's freedom and liberties.
We couldn't think of a better way to celebrate everything great about America as a combat veteran-owned company than to team up with the Working Ranch Cowboys Association & Foundation and create one of the best coffee roasts in America, roasted smack in the middle of cowboy country in Wyoming."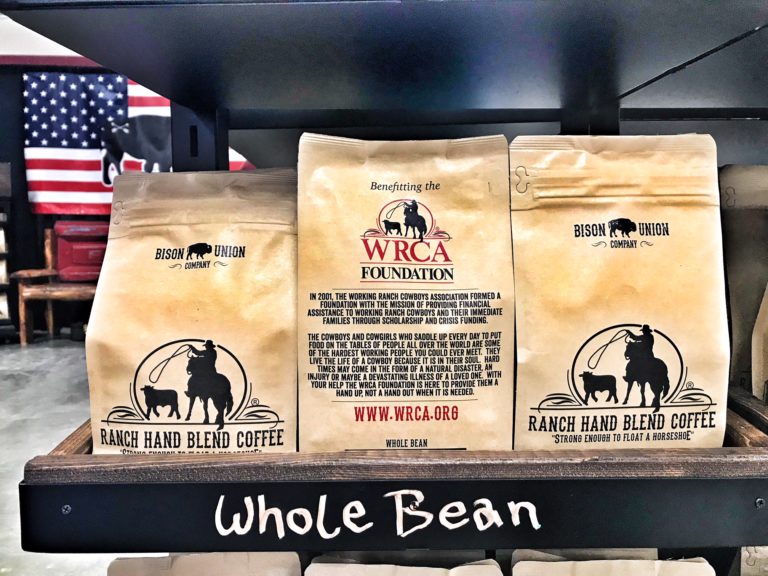 "Buster and the ranching community changed my life," Kuntz says, "completely changed the path of my life and where I was going—and now I want to do my part to give back to them.
Kuntz got connected with the WRCA while attending the 2016 World Champion Ranch Rodeo with Frierson. He met with Leman Wall and the board, and developed his plan to raise money for the Foundation, the branch of WRCA that provides scholarship and crisis assistance to ranch families in need.
It's an ideal partnership. Frierson says, "Military world and ranching world, Special Ops guys and cowboys. It's a good mixture. We're all American patriots doing what we do best. They protect us and we feed them. It's the way the world should work."
Bison Union Co. currently has storefronts in Sheridan (where it will soon be building a coffee roaster) and Cody, with plans for expansion. Eventually, Kuntz is hoping that Bison Union Co. will be successful enough that he can go back to working on a ranch for Frierson, making $10 an hour. He says, "That's how much I enjoy it. I love the community and the lifestyle and being around horses and cows and ranchers."
He says he feels warmly welcomed here, where he sees his values reflected.
"People say America's gotten weak, but I disagree," he says. "Come to a ranch rodeo and you'll see that America is doing just fine. America is great and this community proves it. People just have to look in the right places."