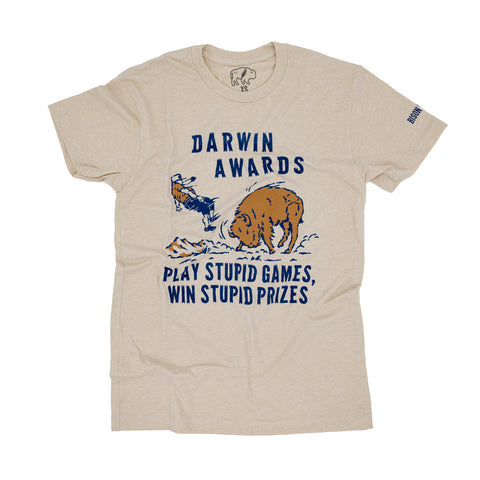 Darwin Awards Tee
The Darwin Awards tee celebrates Wyoming and Montana's version of the Summer Olympics.....
Every summer in the Western Mountain region of the United States an unofficial summer sporting event takes place. It's what we like to call the "Darwin Awards". 
The events are simple and exciting with most consisting of tourist attempting to pet wild animals that can seriously injure or kill a person. The main event is the "Annual Bison Petting" event. Despite weighing up to 2500 lbs and being armed with sharp horns, people still feel the need to try and pet these "Big Fluffy Cows" and the result are often both tragic and entertaining. 

On a serious note anytime a person has contact with a wild animal, there is a risk that the animal will be euthanized....be smart and stay the heck away from wild animals. 100 yards or more is a good rule. 
4.3 oz./yd², 60/40 combed ringspun cotton/polyester, 32 singles
Fabric laundered

Set-in CVC 1x1 baby rib collar
Side seams
Tear away label